"Hello. My name is Crinkleroot. I was born in a tree and raised by bees! I can speak caterpillar, moth, and butterfly, all at the same time. And I know every wild critter in the great outdoors"   Crinkleroot picture and text from: "Crinkleroot's GUIDE TO KNOWING BUTTERFLIES & MOTHS" By Jim Arnosky. Used by permission. All rights reserved.
Looking for moths is a wonderful way to teach kids about nature. Moths are easy to find and can be found everywhere. Kids love to go outside and explore, and they love mothing!  Check out these links to information and fun activities:
M
oth Coloring Book – Alison Ainsworth, NMW participant from Ontario, Canda, has a little one who is too small to stay up late – so she made her a coloring book soshe can play along too. Alison kindly shares the coloring book with the mothing community.  Click here for a PDF version of the book.
Play the Encyclopedia of Life Moth Memory Game and Silk Moth Memory Game Take the names quiz – how many species can you name? Play HappyMoths and help scientists in moth photo classification. Read more about HappyMoths
Moth Scavenger Hunt – played during NMW 2012 by the Dustin Family in Maine.
The children's Butterfly Site [BAMONA]
Lepidopterists Society Educational Resources
Moth Fun Facts, Coloring sheets, and more at http://mothnight.webs.com/education.htm
.
.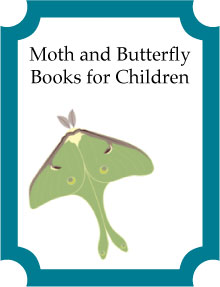 List of books from 'Science Books For Kids'.
More moth book for kids at this link.
The study of the morphology of the Peppered Moth in England after the industrial revolution is a well known example of natural selection. Mary Anne Farah wrote it a children's story. It is available as an e-book.
The publisher of Pepper's Special Wings donated 5 copies of the e-book for National Moth Week participants. The first 5 young moth'ers (10 yeast old or younger) who will tell us why they like moths will receive a free copy of the e-book. So why do you like moths and mothing?  To send your answer – click here.   To see who got a free copy of the e-book - click here.

Watch the Bug Chicks video about moths and butterflies:
——————————————-
Kids of all ages – Send us your mothing stories, moth drawing, and ideas for mothing activities with kids.  Share photos from your mothing adventures on National Moth Week Flickr group.  Some images may be chosen to be featured on the NMW website, if interested please set permissions to Creative Commons.
———————————————————————————————————